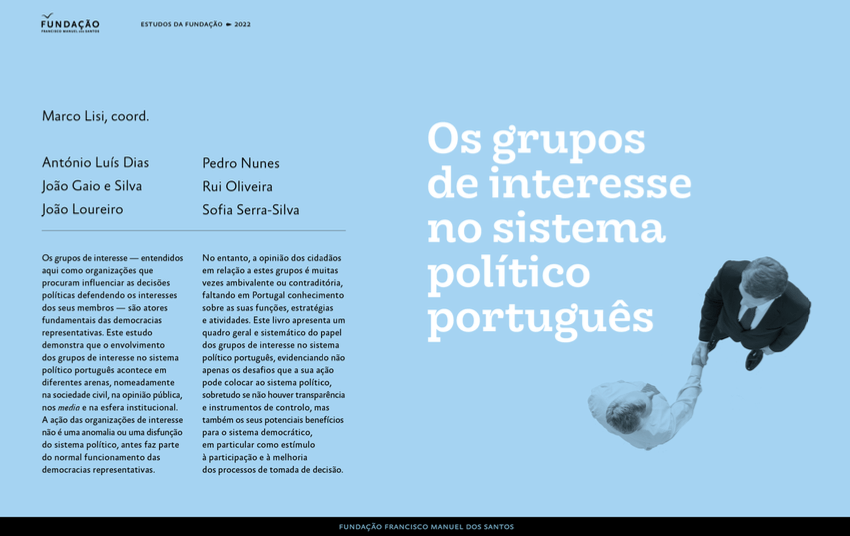 Interest groups – understood here as organizations that seek to influence political decisions by defending the interests of their members – are fundamental actors in representative democracies.
This study shows that the involvement of interest groups in the Portuguese political system takes place in different arenas, namely civil society, public opinion, the media, and the institutional sphere. The action of interest organizations is not an anomaly or a dysfunction of the political system, but part of the normal functioning of representative democracies. However, citizens' opinions about these groups are often ambivalent or contradictory, and Portugal lacks knowledge about their functions, strategies, and activities.
This research presents a general and systematic picture of the role of interest groups in the Portuguese political system, pointing out the challenges that their action can pose to the political system, especially in the absence of transparency and control instruments, but also their potential benefits to the democratic system, particularly as a stimulus to participation and improvement of decision-making processes.
Publication year: 2022
Author: Marco Lisi (coord.), António Luís Dias, João Gaio e Silva, João Loureiro, Pedro Nunes, Rui Oliveira, Sofia Serra da Silva
Promoter Entity: Francisco Manuel dos Santos Foundation (FFMS)
More information: https://www.ffms.pt/pt-pt/estudos/grupos-de-interesse-no-sistema-politico-portugues
ISBN: 978-989-9118-01-0