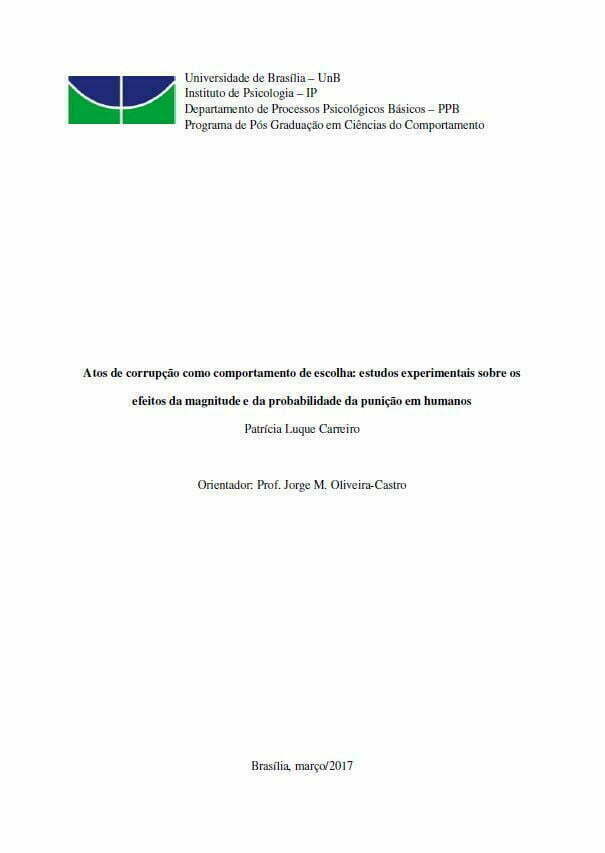 [Abstract]
The present thesis investigated the effect of magnitude and probability of punishment on reducing corrupt behavior, in an experimental situation. A computer game simulating the typical corrupt act was used to conduct two experiments, in which the participant had to choose between two alternatives: one with lower magnitude reinforcers but no risk of punishment, and another with higher magnitude reinforcers, with punishment manipulated in the experimental conditions.
The first experiment sought to investigate the effect of probability and magnitude manipulation, with Brazilian university participants and was divided into two phases, with one session each, also to investigate the effect of exposure to the punishment contingency. The second experiment was conducted with New Zealand students, with the aim of checking for cultural differences in behavior.
The results allow us to conclude that in the first moment there was a greater reduction in undesirable behavior with the magnitude of the penalty, but after a longer contact with the contingency, and better discrimination of the probabilities in effect, it was possible to verify an increasing effect of the probability. Matching was verified for all experiments, with participant bias for the no-punishment alternative. Methodologically, there was an order effect of the conditions presented with recovery of responses in the descending groups. The data did not allow for cultural differences to be assessed, although there was more similarity in specific data from experiment 2 to phase 2 of experiment 1.
Keywords: corruption, equalization, probability of punishment, magnitude of punishment
Publication Year: 2017
Student: Patricia Luque Carreiro
Advisor: Prof. Dr. Jorge M. Oliveira-Castro
Program: PhD in Behavioral Sciences (PPG-CdC).
University: Psychology Institute – University of Brasília (Brazil)
More information: https://repositorio.unb.br/handle/10482/24598